Washington DC Evangelists
Feb 06
"I went to a mount, and spake to as many people as came unto me. They were upwards of two hundred. Blessed be God that I have now broken the ice! I believe I never was more acceptable to my Master than when I was standing to teach those hearers in the open fields." —  George Whitfield writing about his first time open air / street preaching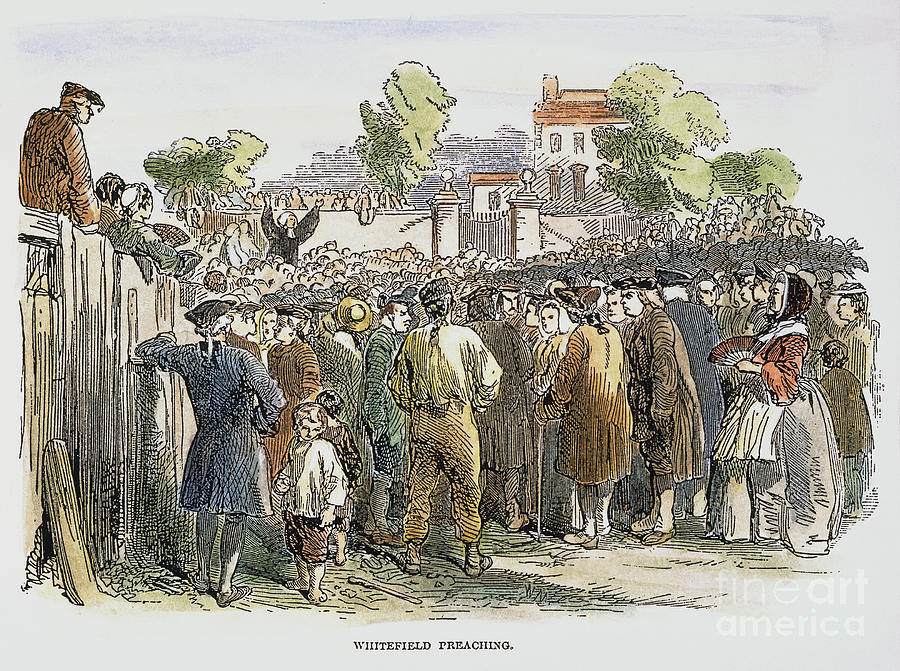 Dec 27
"Beloved, while I was very diligent to write to you concerning our common salvation, I found it necessary to write to you exhorting you to contend earnestly for the faith which was once for all delivered to the saints." ~ Jude 1:3

"Be watchful, stand firm in the faith, act like men, be strong. Let all that you do be done in love." ~ 1 Corinthians 16:13-14

"Now who is there to harm you if you are zealous for what is good? But even if you should suffer for righteousness' sake, you will be blessed. Have no fear of them, nor be troubled, but in your hearts honor Christ the Lord as holy, always being prepared to make a defense to anyone who asks you for a reason for the hope that is in you; yet do it with gentleness and respect, having a good conscience, so that, when you are slandered, those who revile your good behavior in Christ may be put to shame. For it is better to suffer for doing good, if that should be God's will, than for doing evil." ~ 1 Peter 3:13-17

"Beloved, do not be surprised at the fiery trial when it comes upon you to test you, as though something strange were happening to you. But rejoice insofar as you share Christ's sufferings, that you may also rejoice and be glad when his glory is revealed. If you are insulted for the name of Christ, you are blessed, because the Spirit of glory and of God rests upon you. But let none of you suffer as a murderer or a thief or an evildoer or as a meddler. Yet if anyone suffers as a Christian, let him not be ashamed, but let him glorify God in that name. For it is time for judgment to begin at the household of God; and if it begins with us, what will be the outcome for those who do not obey the gospel of God? And

"If the righteous is scarcely saved, what will become of the ungodly and the sinner?"

Therefore let those who suffer according to God's will entrust their souls to a faithful Creator while doing good." ~ 1 Peter 4:12-19


"'If the world hates you, know that it has hated me before it hated you. If you were of the world, the world would love you as its own; but because you are not of the world, but I chose you out of the world, therefore the world hates you. Remember the word that I said to you: 'A servant is not greater than his master.' If they persecuted me, they will also persecute you. If they kept my word, they will also keep yours. But all these things they will do to you on account of my name, because they do not know him who sent me." ~ John 15:18-21


"Only let your manner of life be worthy of the gospel of Christ, so that whether I come and see you or am absent, I may hear of you that you are standing firm in one spirit, with one mind striving side by side for the faith of the gospel, and not frightened in anything by your opponents. This is a clear sign to them of their destruction, but of your salvation, and that from God. For it has been granted to you that for the sake of Christ you should not only believe in him but also suffer for his sake, engaged in the same conflict that you saw I had and now hear that I still have." ~ Philippians 1:27-30
(via sparrower)
Jun 12
[video]
Jun 01
Bible Verses The Black Hebrew Israelites Need To Hear
Bible Verses The Black Hebrew Israelites Need To Hear (the King James Version is their preferred translation):
"I the Lord have called thee in righteousness, and will hold thine hand, and will keep thee, and give thee for a covenant of the people, for a light of the Gentiles;" ~ Isaiah 42:6
"And he said, It is a light thing that thou shouldest be my servant to raise up the tribes of Jacob, and to restore the preserved of Israel: I will also give thee for a light to the Gentiles, that thou mayest be my salvation unto the end of the earth." ~ Isaiah 49:6
"The Lord GOD which gathereth the outcasts of Israel saith, Yet will I gather others to him, beside those that are gathered unto him" ~ Isaiah 56:8
"And, behold, there was a man in Jerusalem, whose name was Simeon; and the same man was just and devout, waiting for the consolation of Israel: and the Holy Ghost was upon him.
And it was revealed unto him by the Holy Ghost, that he should not see death, before he had seen the Lord's Christ.
And he came by the Spirit into the temple: and when the parents brought in the child Jesus, to do for him after the custom of the law,
Then took he him up in his arms, and blessed God, and said,
Lord, now lettest thou thy servant depart in peace, according to thy word:
For mine eyes have seen thy salvation,
Which thou hast prepared before the face of all people;
A light to lighten the Gentiles, and the glory of thy people Israel." ~ Luke 2:25-32
"And he said unto them, These are the words which I spake unto you, while I was yet with you, that all things must be fulfilled, which were written in the law of Moses, and in the prophets, and in the psalms, concerning me.
Then opened he their understanding, that they might understand the scriptures,
And said unto them, Thus it is written, and thus it behooved Christ to suffer, and to rise from the dead the third day:
And that repentance and remission of sins should be preached in his name among all nations, beginning at Jerusalem." ~ Luke 24:44-47
"And that the Gentiles might glorify God for his mercy; as it is written, For this cause I will confess to thee among the Gentiles, and sing unto thy name.
And again he saith, Rejoice, ye Gentiles, with his people.
And again, Praise the Lord, all ye Gentiles; and laud him, all ye people.
And again, Esaias saith, There shall be a root of Jesse, and he that shall rise to reign over the Gentiles; in him shall the Gentiles trust." ~ Romans 15:9-12
"For so hath the Lord commanded us, saying, I have set thee to be a light of the Gentiles, that thou shouldest be for salvation unto the ends of the earth." ~ Acts 13:47
"And the times of this ignorance God winked at; but now commandeth all men every where to repent:
Because he hath appointed a day, in the which he will judge the world in righteousness by that man whom he hath ordained; whereof he hath given assurance unto all men, in that he hath raised him from the dead." ~ Acts 17:30-31
"God be merciful unto us, and bless us; and cause his face to shine upon us; Selah.
That thy way may be known upon earth, thy saving health among all nations.
Let the people praise thee, O God; let all the people praise thee.
O let the nations be glad and sing for joy: for thou shalt judge the people righteously, and govern the nations upon earth. Selah.
Let the people praise thee, O God; let all the people praise thee.
Then shall the earth yield her increase; and God, even our own God, shall bless us.
God shall bless us; and all the ends of the earth shall fear him." ~ Psalm 67
"The Lord hath made known his salvation: his righteousness hath he openly shewed in the sight of the heathen." ~ Psalm 98:2
"For the grace of God that bringeth salvation hath appeared to all men,
Teaching us that, denying ungodliness and worldly lusts, we should live soberly, righteously, and godly, in this present world;
Looking for that blessed hope, and the glorious appearing of the great God and our Saviour Jesus Christ;
Who gave himself for us, that he might redeem us from all iniquity, and purify unto himself a peculiar people, zealous of good works." ~ Titus 2:11-14
"And Jesus came and spake unto them, saying, All power is given unto me in heaven and in earth.
Go ye therefore, and teach all nations, baptizing them in the name of the Father, and of the Son, and of the Holy Ghost:
Teaching them to observe all things whatsoever I have commanded you: and, lo, I am with you always, even unto the end of the world. Amen." ~ Matthew 28:18-20
"And he said unto them, Go ye into all the world, and preach the gospel to every creature.
He that believeth and is baptized shall be saved; but he that believeth not shall be damned." ~ Mark 16:15-16
"But ye shall receive power, after that the Holy Ghost is come upon you: and ye shall be witnesses unto me both in Jerusalem, and in all Judaea, and in Samaria, and unto the uttermost part of the earth." ~ Acts 1:8
All of Romans 10 & 11, here are verses to emphasize:
"For Christ is the end of the law for righteousness to every one that believeth." ~ Romans 10:4
"That if thou shalt confess with thy mouth the Lord Jesus, and shalt believe in thine heart that God hath raised him from the dead, thou shalt be saved." ~ Romans 10:9
"For the scripture saith, Whosoever believeth on him shall not be ashamed." ~ Romans 10:11
"For there is no difference between the Jew and the Greek: for the same Lord over all is rich unto all that call upon him." ~ Romans 10:12
"For whosoever shall call upon the name of the Lord shall be saved." ~ Romans 10:13
"But I say, Did not Israel know? First Moses saith, I will provoke you to jealousy by them that are no people, and by a foolish nation I will anger you." ~ Romans 10:19
"But to Israel he saith, All day long I have stretched forth my hands unto a disobedient and gainsaying people." ~ Romans 10:21
"I say then, Have they stumbled that they should fall? God forbid: but rather through their fall salvation is come unto the Gentiles, for to provoke them to jealousy." ~ Romans 11:11
"Now if the fall of them be the riches of the world, and the diminishing of them the riches of the Gentiles; how much more their fulness?" ~ Romans 11:12
"For if the casting away of them be the reconciling of the world, what shall the receiving of them be, but life from the dead?" ~ Romans 11:15
"And if some of the branches be broken off, and thou, being a wild olive tree, wert grafted in among them, and with them partakest of the root and fatness of the olive tree;" ~ Romans 11:17
"Thou wilt say then, The branches were broken off, that I might be grafted in." ~ Romans 11:19
"For if God spared not the natural branches, take heed lest he also spare not thee." ~ Romans 11:21
"For I would not, brethren, that ye should be ignorant of this mystery, lest ye should be wise in your own conceits; that blindness in part is happened to Israel, until the fulness of the Gentiles be come in." ~ Romans 11:25
"And other sheep I have, which are not of this fold: them also I must bring, and they shall hear my voice; and there shall be one fold, and one shepherd." ~ John 10:16
All of Ephesians 2, here are verses to emphasize:
"Wherefore remember, that ye being in time past Gentiles in the flesh, who are called Uncircumcision by that which is called the Circumcision in the flesh made by hands;" ~ Ephesians 2:11
"That at that time ye were without Christ, being aliens from the commonwealth of Israel, and strangers from the covenants of promise, having no hope, and without God in the world:" ~ Ephesians 2:12
"Now therefore ye are no more strangers and foreigners, but fellowcitizens with the saints, and of the household of God;" ~ Ephesians 2:19
Please comment if you find more.
May 24
"A Bible that's falling apart usually belongs to someone who isn't"
- CH Spurgeon
May 23
National Memorial Day Parade, Washington, D.C. Outreach
Come and help handout thousands of Gospel Tracts to over 250,000 people at the National Memorial Day Parade in Washington, D.C. on Monday, May 28, 2012, 1:00pm until 5:00pm
The National Memorial Day Parade (which draws over 250,000 people), presented by the American Veterans Center, is held annually in Washington DC, and is an opportunity for thousands of patriotic Americans to come together and honor those who have sacrificed so much in service to our country.

The event celebrates all those who have served in uniform from the American Revolution to Operation Iraqi Freedom, and seeks to educate the public about the meaning of this hallowed day.

The three-hour parade passes alongside the National Mall on Constitution Avenue between 7th and 17th Streets. The event is a magnificent salute to America's Veterans and in honor of those who died in defense of our country — from the American Revolution to Operation Iraqi Freedom. The parade consists of outstanding marching bands from many of the 50 states and veterans units honoring World War I, War World II, The Korean and Vietnam Conflicts, Desert Storm, and the liberation of Grenada, Panama, Iraq and Afghanistan. Large patriotic floats and helium-filled balloons are also part of procession. More than 10,000 participants take part in the parade annually.

The 2012 parade will be broadcast live on the Military Channel beginning at 2:00 PM Eastern.

Other Memorial Day Events in DC: http://dc.about.com/od/hoildaysseasonalevents/a/MemorialDay.htm

Parade Route and Map:
The National Memorial Day Parade will step off at the corner of Constitution Avenue and 7th Streets, NW. It will proceed west down Constitution, past the White House, ending at 17th Street.

http://www.nationalmemorialdayparade.com/images/NPS_largeRoute3.jpg

The parade starts at 2pm, we will meet at the corner of 7th ST NW and Pennsylvania Ave NW (near the Archives Metro Station), adjacent to the Major General Winfield Scott Hancock Statue / small park, and distribute the Memorial Day themed Gospel tracts between all that can make it. The parade starts at 2pm, we need start walking down Constitutional Ave (one block away) towards the White House / VA direction at 1:30pm. Please arrive no later than 1pm. We will be there by 1:00 pm to give you as many tracts as you can carry. Bring a back pack, comfortable walking shoes, and water.

Please be sure to cover this event, the Gospel tracts, and those who will be receiving the Gospel tracts, in prayer.

(Source: facebook.com)
Proclaiming the Gospel of Jesus Christ (http://www.heartcrymissionary.com/resources/the-gospel-of-jesus-christ) on the streets of Washington DC. For more information, questions, or to find out how you can come labor with us, please visit: http://www.washingtondcevangelists.com/